Profile
This journal should be viewed with discretion.
Free Account
Created on 2010-12-29 06:16:15 (#683196), last updated 2011-08-06 (320 weeks ago)
1,431 comments received, 2 comments posted
663 Journal Entries, 157 Tags, 0 Memories, 1 Icon

About

Mini Bio
Hi,
When I'm not daydreaming about some anime character, I'm a happily married mother of two.
I like gardening, reading( especially fan fics!) and watching anime..duh!
I started out watching "The Big-O" then started on "Cowboy Bebop". Then it turned into Fullmetal Alchemist, Bleach and Samurai Champloo. I really like Death Note and just about any story from CLAMP. I watch just about anything that has a good voice in it: Steven Blum, Lex Lang ,Richard Hayworth ,Crispin Fremman,Travis Willingham.... I'm really into voices. They turn me into goo.
I don't consider myself a overly outgoing person but I will comment on things if I feel the urge. Most times I'm friendly, sometimes I'm not. It's just the chance you'll have to take.
DISCLAIMER:
Although I generally like to keep my journal suitable for most audiences, that doesn't mean that the people I've friended or the communities I am a member of do.
Oh yeah,


By Primera_Espada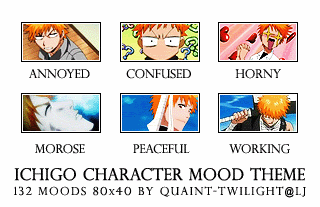 It can be found here
Your Quirk Factor: 57%


You're a pretty quirky person, but you're just normal enough to hide it.

Congratulations - you've fooled other people into thinking you're just like them!


Connect
abarai renji
,
alphonse elric
,
amigurumi
,
anime
,
big o
,
bleach
,
bleach anime
,
bleach manga
,
cardmaking
,
clamp
,
computers
,
copeland
,
crochet
,
death note
,
doujinshi
,
ed x roy
,
edward elric
,
elricest
,
fan fiction
,
fanfic
,
fanfiction
,
fma
,
fma yaoi
,
formula 1
,
full metal alchemist
,
fullmetal alchemist
,
gardening
,
hagane no renkinjutsushi
,
hagaren
,
hisagi shuuhei
,
hughes x roy
,
ichigo
,
ichigo kurosaki
,
inoue orihime
, ishida uryu,
japanese craft
,
kira
,
kubo tite
,
kuchiki byakuya
,
kuchiki rukia
,
kurosaki ichigo
,
kurosaki isshin
,
l
,
lawrence of arabia
,
light
,
maes hughes
,
mello
,
mirage of blaze
,
motogp
,
muse
,
near
,
pet shop of horrors
,
raito
,
reading
, renxichi,
roy mustang
,
roy x ed
,
roy x hughes
,
rurouni kenshin
,
sewing
,
sherlock
,
shinigami
,
shounen ai
,
smut
,
soul society
,
t.e. lawrence
,
the flame alchemist
,
travis willingham
,
urahara kisuke
, uraishi,
voice actors
,
yagami raito
,
yami no matsuei
,
yaoi
,
zangetsu
,
zaraki kenpachi
,
鋼の錬金術師

People
[View Entries]

Communities
[View entries]

Feeds
[View Entries]

Subscriptions (0)

Linking
To link to this user, copy this code:
On Dreamwidth:
Elsewhere: